Keep Calm & Carry On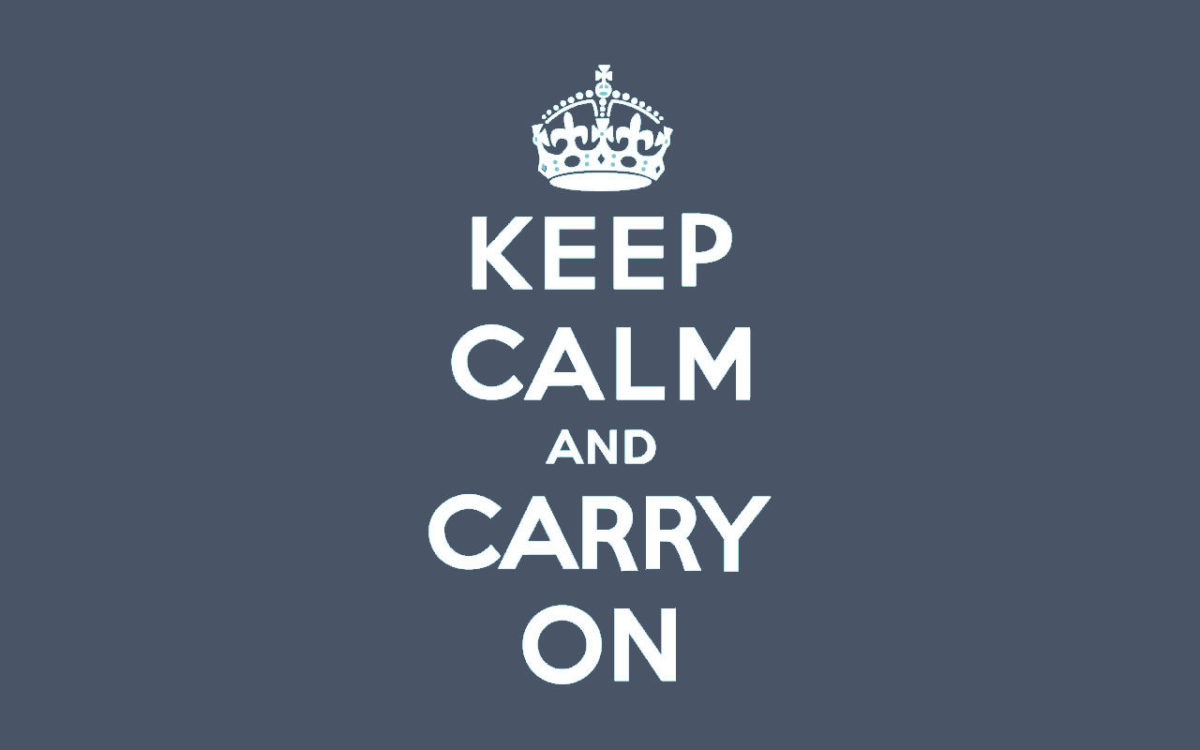 "Keep Calm & Carry On." Have you seen this on T-shirts and other notions like coffee cups or iPad Covers? I never really stopped to even think about what this meant. It was so mundane that I never truly noticed it, like a public water fountain or a mailbox.  It is there, but not "there" in my awareness until now, when I need it. As we enter into a season of dramatic transition, this phrase today suddenly resonates with me...Keep Calm, & Carry On.  In the midst of the temperature dropping and going from daylight to darkness in fewer hours, there is a palpable change in our bodies, mind, and spirit.
I was in line at the grocery store and the cashier asked me if I was cooking for Thanksgiving.  Almost too quickly, I said NOOO.  That's because it just hit me at that moment that Thanksgiving is already next week! How did that happen? I swear we were just ringing in the New Year or even just celebrating spring and summer graduations.  How did we get here so fast?
The point is, I was instantly overwhelmed by the planning, preparing, shopping, cooking, etc.  I instantly saw Christmas decorations needing to go up, family visits, houseguests, crowded stores, gifts, my limited gift budget as I patiently call forth abundance, how to maintain or lose weight in the midst of holiday celebrations, and all the possibilities of 2018 sprawled out before me.  I couldn't take it.
The mind is an amazing protector, isn't it?  That surely was my citified version of fight or flight.  I fled.  Surely my cortisol levels were off the chart. I laughed at my reaction and listened as the cashier told me about the menu she is planning, and we bid each other a good day.  Then she said it.  As I walked away she said it so everyone could hear in that too-sweet, sing-song voice… Happy Holidays!
Really? What is she trying to do? Kill me? :)
So I took a deep breath and pulled myself together. Keep Calm and Carry On. I realize the key to overcoming the "perceived" stress of the holidays is Mindfulness.
I am mindful of my money, so I won't overspend
I am mindful that it is a season of Gratitude, and I will focus on being thankful.
I am mindful that I am craving traditional comfort foods, so I will eat with my body in mind and ramp up the workouts.
I am aware that people get depressed during this season, so I will be actively compassionate and compassionately active.
I am mindful that it is a time for family, so I will make precious time to connect with my loved ones.
With a little mindfulness, we can manage our total health and make great choices that focus on what matters most.
Remember, Keep Calm by taking a deep breath. Be mindful and aware of your choices and how they make you feel.  Be still and find your inner peace. And don't forget the Carry On part! Once you have gained stillness and wisdom from your inner voice, then you can find your comportment, pull yourself together and go forth positively, wisely, and healthily.
Happy Holidays People!
Keep Calm and Carry On.
And remember, UGottaEat…so eat mindfully.
If this helped you, hit the Share button on the left side of your screen. Spread some compassion and this blog during this season of love.